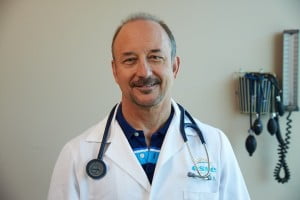 Hopefully, by now, we have you exercising on a regular basis. You are feeling more energetic, sleeping better, have improved moods, and are losing some of the weight you wanted to lose. Life is good. Now it is time to talk about toning. Cardiovascular exercise helps your heart and will help you burn calories, but will not tone your body. You need resistance exercises to do that.
We will start simple. You do need to buy some resistance bands (available wherever sporting goods are sold).
First, let's do a pushup. This exercise works your chest, the front part of your shoulders, your core, and the back of your arms. Lie face down on the floor, palms slightly wider than shoulder width. Your body should be straight and firm. (If this is the first time you have ever done a pushup, put your weight on your knees, not your feet.) Push your body up by straightening your arms. That is one. Go back down so your chest is about 3-4 inches off of the floor and repeat. Do as many as you can and if you need to start on your knees, work to keep your body straight and not use your knees.
Rows: This exercise works your back and the front of your arms. Open a door, and loop your resistance band around the door handles. Stand at arm's length with the resistance bands fully extended; bend your knees slightly for balance and pull the band to your stomach. That is one. Repeat at least 10 times. To work the back part of your shoulders do the same exercise, but pull the band to your face instead of your stomach. That will shift the work to your upper back and shoulder region.
Squats: One of the best overall exercises. Period. This muscle works virtually every muscle in your legs. Sit in a straight back chair. Stand up using your leg muscles only. That is one. Using a chair ensures you don't squat too low and put excess stress on your knees. Do at least 20 squats.
Hamstring exercises: These work the butt and back of the legs. Lie on your back and bend your knees. Your feet can be on the floor, on a chair or on an exercise ball, which makes it more difficult. Now raise your butt off of the ground so your body is a straight line from shoulders to knees. That is one. Lower and do 10.
Calf raises: Stand erect, raise onto your toes. That is one. Lower and do a total of 20.
OK. These exercises have worked virtually your entire body. The pushups do your chest, shoulders and triceps (back of the arms). Rows do back and biceps (front of arms). Row to face does the back of the shoulders. Squats do almost all leg muscles. Butt raise does the butt and back of the legs, and calf raises do your calf. Add your core exercise and you have a nice regimen to help tone your muscles. Alternate one day of resistance exercise, and one day of cardio exercise.